I had a locksmith come out to replace a doorknob that had gone bad. It had gradually gotten hard and harder to turn and finally the bolt got stuck inside the door. Which meant the only thing keeping the door shut was the deadbolt. I had replaced doorknobs before, but this one had a non-standard length and strike plate so I didn't want to mess with it. The thing that struck me while watching him work is that he never had to try and force a tool to do something it wasn't designed to do. He always had the correct tool and it worked exactly the way he expected it to.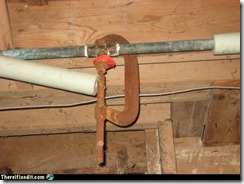 He never tried to screw in a Phillips head screw using a knife blade or a flat head screwdriver. He didn't have to duct tape anything
I have a small battery powered Dremel rotary tool. It works for very small jobs. There have been a couple of times when I've had to push it way beyond it's limit, including once when I needed to make the opening on a door jam for a strike plate a little wider. It took me forever. I had to charge the battery twice and broke a bit before I finally had enough room, but just barely enough room. Contrast that with the locksmith who had to do the exact same thing. He pulled out a much larger Dremel that plugged into the wall. Where it took me almost 45 minutes to rout out the door jam, he took about 2 minutes with his much more powerful tool. I could have stopped, went to the store, and bought a more powerful tool and gotten the job done much faster. But I thought that this tool would do the trick and going to the store would have cost me some resources, it might have taken a little longer. I'd have to learn how to use the new tool. Get a new bit. But overall, it probably would have saved me some time in the future and probably would have saved me some time on that project. I could definitely find other uses for the new tool.
Think about that the next time you reject a new programming tool because you think it might take too long to learn or it's different. Instead of doing the hacky way you KNOW will work, check to see if there is a more elegant or permanent solution.  Because if you aren't careful, your cheap and easy workaround might end up sticking around in the project long enough for it to become a problem to you.